Dean Frischknecht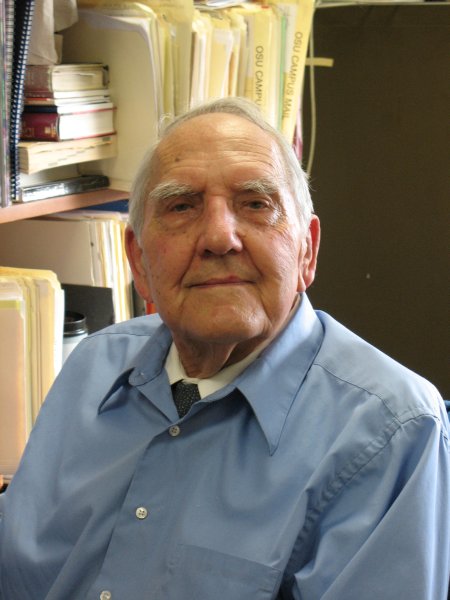 W. Dean Frischknecht was hired by the Oregon Extension Service in 1956 as a Livestock Specialist. One of his primary responsibilities was working with the livestock industry of Oregon, focusing on beef cattle improvement. Due to his experience and knowledge, he represented many livestock related associations and committees, such as the Western Livestock Committee, Beef Improvement Federation, Oregon Cattlemen's Beef Improvement Committee, and 4-H Livestock Advisory Committee. He worked for the Extension Service until he retired in 1985 with an Emeritus appointment, and has continued to represent the Extension Service in organizations and different projects throughout the years since retirement.
Frischknecht has many publications pertaining to the livestock industry. He authored Beef Cattle: Shaping Up for Winter (1966), Some Feeding Alternatives for Wintering Beef Cattle (1973), How to Select, Grow, and Manage Replacement Heifers (1978), The Oregon Carcass of Merit Program (1984), and Old Deseret Live Stock Company: a Stockman's Memoir (2008), which describes his work on a ranch in Utah. He also coauthored Oregon Beef Improvement Procedures (1970), Cattle Facilities (1980), Feeding Beef Cattle during Periods of Feed Shortages (1980), Beef Production for Small Farms (1981), Understanding Calf Scours (1981), and Preventing Selenium Deficiency in Livestock (1983).
Dean Frischknecht was born in 1920 in Manti, Utah. He earned a B.S. in Animal Husbandry from Utah State Agriculture College in 1942 and an M.S. in Animal Husbandry in 1943. After college he worked for a ranch in Utah, and joined the Marines in January of 1945, in which he served until being discharged in May of 1946.
After his military service, Frischknecht went back to the ranch in Utah and worked from 1946 to 1954 as a Sheep Manager of 40,000 ewes and helped with the cattle and horses. He then took a job as life insurance underwriter for Pacific National Life before seeking a position with the Extension Service.